AHA-Actif Anti-Odourant Crème- Fresh
35mL / 1.18 fl. oz.
Regular price

Sale price

$26.00
Free shipping across Aus / NZ
on orders AU$60+
48hr Dispatch
from Melbourne
The KYOOR AHA-Actif Anti-Odourant Crème safely neutralises body odour for up to 36 hours, absorbs wetness, and helps re-nourish the delicate skin of the underarms, empowering you to get the most out of your day!
This luxurious crème works to bolster the skin's natural barrier function by maintaining a skin friendly pH and supporting a healthy microbiome.  It is fortified with native Australian extracts and rich in antioxidants for added restorative benefits.
KEY BENEFITS
Up to 36 hour odour protection
pH friendly for enhanced skin barrier function
Water based formula that does not clog pores
Reduced underarm pigmentation for a more even skin tone
Naturally exfoliating for a brighter and fresher looking underarm
Infused with potent actives for improved skin vitality, firmness, and elasticity
No yellow staining of underarms or clothing
A light, and luxurious cream texture all year around
Other Features

- Naturally derived ingredients

- Vegan

- Cruelty free

- Contains certified organic ingredients

- Fortified with botanical extracts, and rich in vitamins, minerals, and antioxidants

- Clean Beauty Guarantee

- Sustainable. Our tubes are made of sugar cane derived bioplastic and cartons from FSC® certified card

- Made in Australia with love
Nothing Extra Added

This product does not contain Aluminium, Bi-carb Soda, Parabens, Nano-Particles (Nano Silver, Nano Zinc), Phenoxyethanol, Urea, Oxybenzone, Triclosan, Phthalates, Ethanolamine Compounds (MEA/DEA/TEA), EDTA, PG/PEG Compounds, Toluene, Siloxanes, Hydroquinone, Synthetic Colours and Fragrances
How To Use

Apply a pea sized amount or as required to a clean and dry underarm/body part. Lightly rub in and allow to set. This product has been formulated to leave a thin absorbent layer on the skin's surface.

TIP: To increase product effectiveness, always apply to dry skin. Wet skin will dilute the product and decrease its effectiveness.
Ingredients

FLORAL: Aloe Barbadensis Leaf Juice*, Lactic Acid, Butyrospermum Parkii (Shea) Oil*, Zinc Oxide, Aqua/Water, Arachidyl Alchohol, Propanediol, Bentonite, Glycerin, Saccharum Officinarum (Sugar Cane) Extract*, Behenyl Alchohol, Terminalia Ferdinandiana (Kakadu Plum) Fruit Extract, Santalum Acuminatum (Quandong) Fruit Extract, Salvia Officinalis (Sage) Leaf Extract, Equisetum Arvense (Horsetail) Extract, Glucose, Xanthan Gum, Arachidyl Glucoside, Dehydroacetic Acid, Benzyl Alcohol, Rosa Damascena (Rose) Flower Oil, Jasminum Grandiflorum (Jasmine) Flower Extract, Lavandula Angustifolia (Lavender) Flower Oil, Tilia Americana (Linden Blossom) Flower Oil, Cananga Odorata (Ylang Ylang) Flower Oil, Tanacetum Annuum (Tansy) Flower Oil, Pelargonium Graveolens (Geranium) Oil, Benzyl Alcohol**, Benzyl Benzoate**, Benzyl Salicylate**, Cinamyl Alcohol**, Citral**, Citranellol**, Eugenol**, Isoeugenol**, Ceraniol**, Limonene**, Linalool**, Farnesol**

FRESH: Aloe Barbadensis Leaf Juice*, Lactic Acid, Butyrospermum Parkii (Shea) Oil*, Zinc Oxide, Aqua/Water, Arachidyl Alchohol, Propanediol, Bentonite, Glycerin, Saccharum Officinarum (Sugar Cane) Extract*, Behenyl Alchohol, Terminalia Ferdinandiana (Kakadu Plum) Fruit Extract, Santalum Acuminatum (Quandong) Fruit Extract, Salvia Officinalis (Sage) Leaf Extract, Equisetum Arvense (Horsetail) Extract, Glucose, Xanthan Gum, Arachidyl Glucoside, Dehydroacetic Acid, Benzyl Alcohol, Lavandula Angustifolia (Lavender) Flower Oil*, Chamaecyparis Obtusa (Hinoki) Wood Oil, Citrus Aurantium Amara (Neroli) Flower Oil, Canarium Luzonicum (Elemi) Gum Oil, Citrus Aurantium Bergamia (Bergamot) Peel Oil Expressed, Citrus Grandis (Grapefruit) Peel Oil, Citrus Aurantium Dulcis (Sweet Orange) Peel Oil, Benzyl Benzoate**, Citral**, Citranellol**, Geraniol**, Limonene**, Linalool**

Contains Certified Organic Ingredients. **denotes naturally occurring in essential oils.
Shipping

Australia

Free standard delivery on orders over $50+ 

Standard Tracked Shipping (7-10 Business Days) - $10 AUD 

Express Tracked Shipping (3-5 Business Days) 

Express shipping rates calculated at checkout 

 

International

Standard Tracked Shipping (15-20 Business Days) 

Express Tracked Shipping (12-15 Business Days) 

Shipping rates calculated at checkout 

 

We endeavour to get your order to you as soon as possible. Once your order is placed, an estimated delivery time will be provided to you. Delivery times are estimates and commence from the date of shipment, rather than the date of order. Delivery times are to be used as a guide only and are subject to the acceptance and approval of your order. Estimated arrival dates are not guaranteed. Weather delays and unforeseen circumstances may impact delivery time. Unless there are exceptional circumstances, we make every effort to fulfil your order.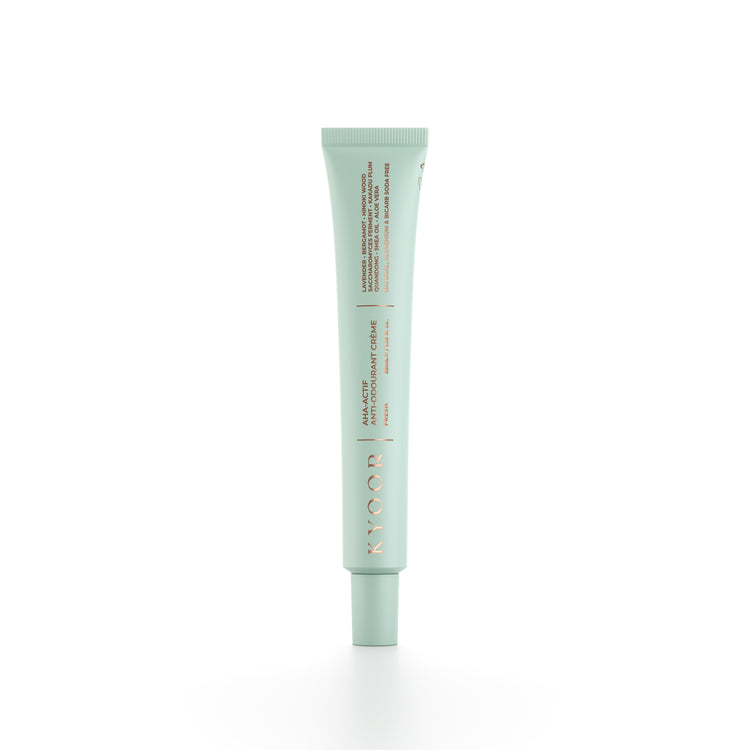 Highly Effective

Vegan & Cruelty Free

Naturally Derived Ingredients

Clean Beauty Guarantee

Sustainable Packaging

Made in Australia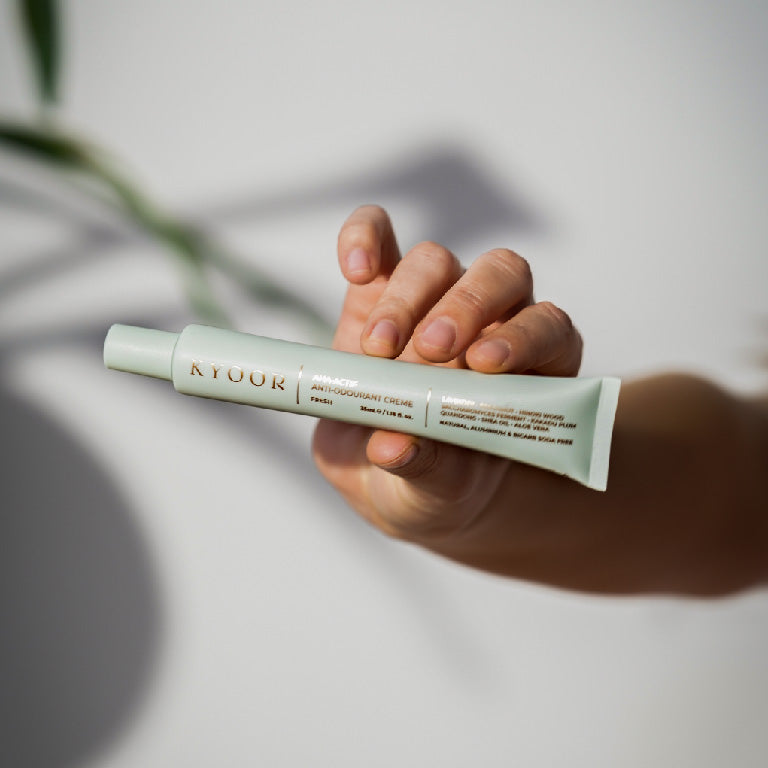 pH balanced for healthier, stronger skin
Did you know that a healthy skin pH is important in ensuring proper skin barrier function? 
Formulated to be slightly acidic, the AHA-Actif Anti-Odourant Crème supports your skin's natural pH balance, helping to keep it firm, vibrant, and youthful.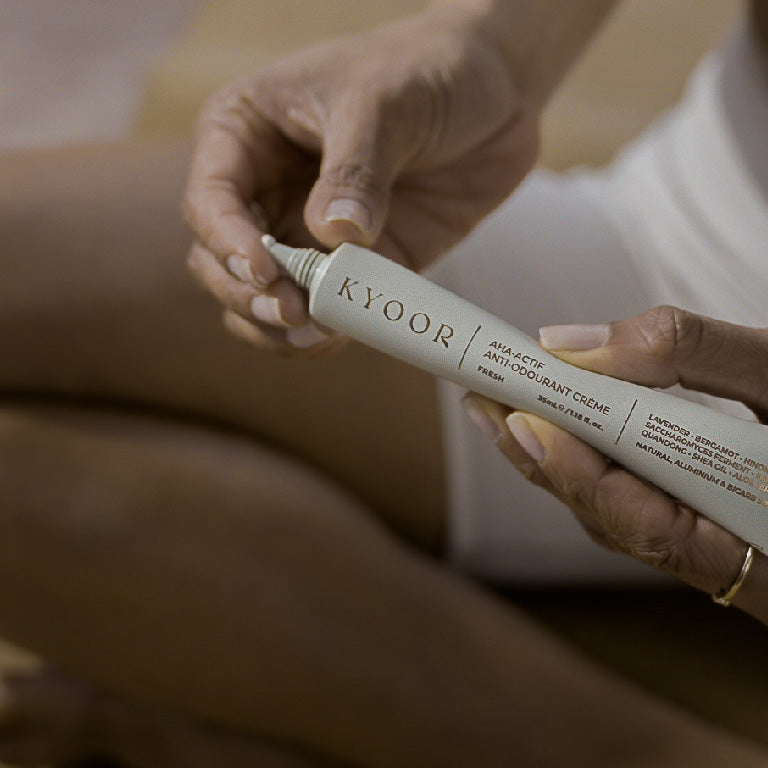 Infused with Botanical Extracts to Soothe & nourish
Kakadu plum, quandong, sage leaf extract and saccharomyces ferment are absorbed into the skin where it nourishes, soothes irritation, fight free radicals, and stimulates cellular renewal.
Tyrosinase inhibitors and depigmenting compounds contained in the creème may help lighten skin discolourations for a brighter and more even skin tone.
CLEAN. NATURAL. CONSCIOUS.  MADE WITH CARE. 
Proudly crafted with naturally derived ingredients for optimal skin health and safety. No Synthetic Colours, Fragrances, or Preservatives.

NO ALUMINIUM

NO BI-CARB SODA

NO PARABENS

NO PHTHALATES

NO TRICLOSAN

NO SYNTHETIC COLOURS OR FRAGRANCES
ONLY THE BEST INGREDIENTS
Kakadu Plum Extract

Contains up to 100 times the vitamin C content of an orange. Kakadu Plum helps boost skin vitality, firmness, and elasticity by combating free radicals and acting as a co-factor in collagen synthesis. It is also a potent growth inhibitor of odour causing bacteria

Saccharomyces ferment / sugar cane extract

Soothes irritation, reduces inflammation, and stimulates cellular renewal. Enzymes contained in the ferment help to neutralise odour causing compounds found in sweat while tyrosinase inhibitors help to reduce skin pigmentation

Aloe Barbadensis Leaf Juice

Compounds in aloe help bind moisture to the skin and stimulate collagen production for enhanced skin health. The Aloin in aloe has been shown to block UV rays and lighten skin discolourations

Bentonite Clay

A potent healing, detoxifying, anti-inflammatory, and anti-bacterial agent. Bentonite binds to negatively charged toxins, helping to reduce or eliminate toxicity. Bentonite can also help keep the underarms dry without blocking the pores due to its exceptional water binding capacity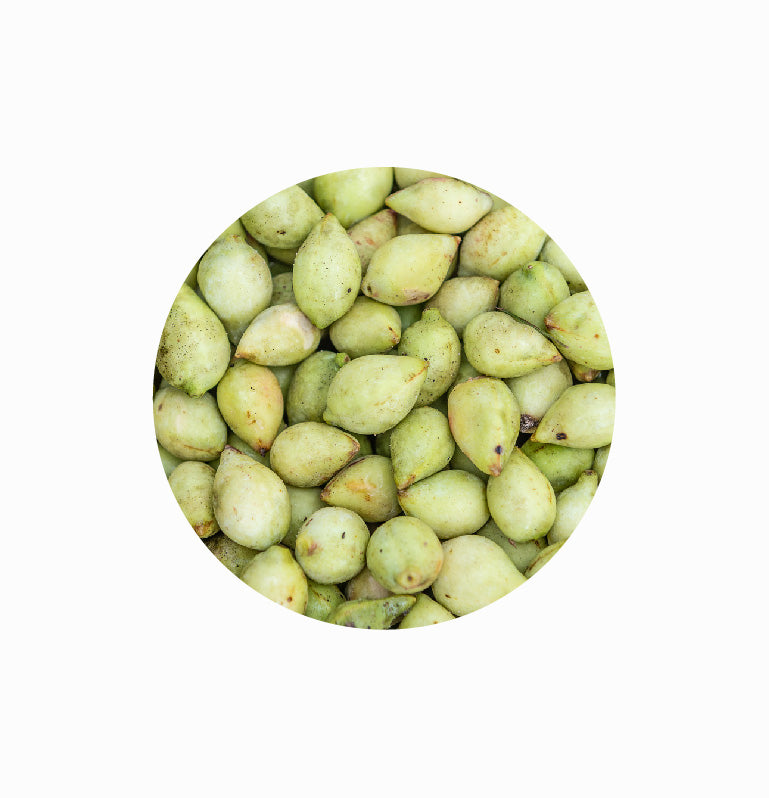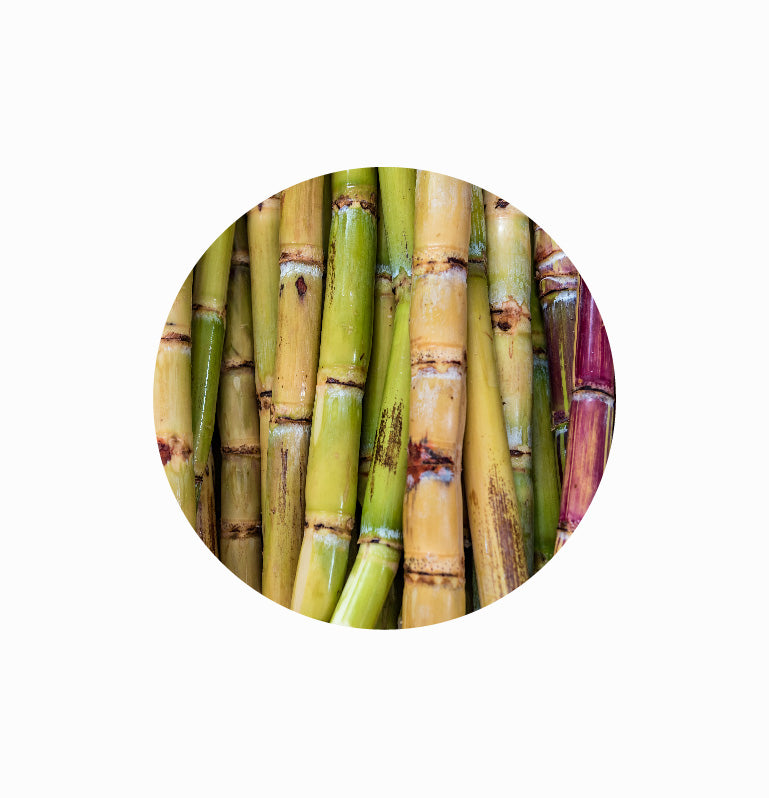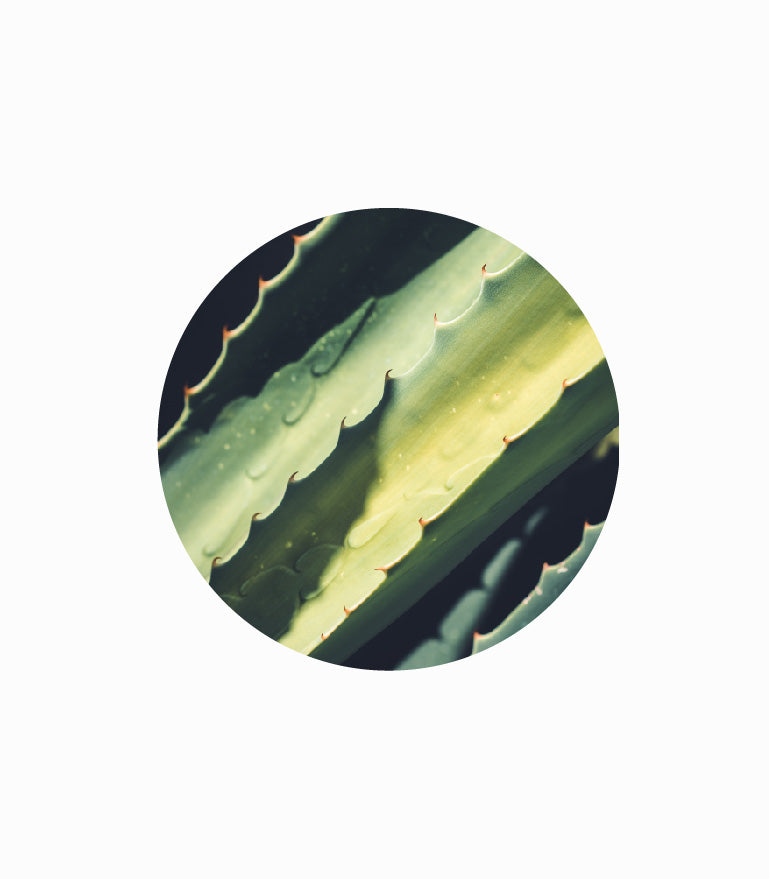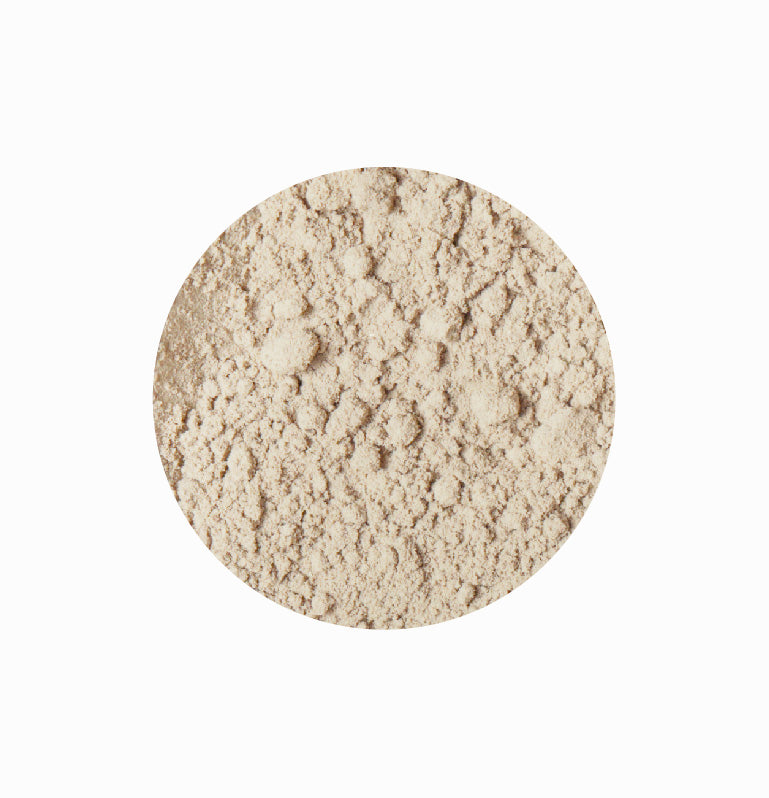 FREQUENTLY ASKED QUESTIONS
We're big on transparency. View our FAQs for answers to our most frequently asked questions
Why go natural?

Share information about your brand with your customers. Describe a product, make announcements, or welcome customers to your store.
What is the difference between anti-perspirants, deodorants, and anti-odourants? 

While anti-perspirants help keep you dry for longer, they contain aluminium salts which block sweat glands by reacting with electrolytes in perspiration to form a gel-like "plug". This prevents your sweat glands from being able to properly secrete fluid and toxins.     

Deodorants on the other hand will not prevent you from sweating. Rather, they seek to mask body odour using fragrances, alcohol, and in some instances antibacterials which eliminate odour-causing bacteria from the underarms.  While the use of deodorants may help to cover up body odour, they may result in a rather unpleasant smell that resembles a mix of perspiration and synthetic fragrance.  

Our anti-odourant, the AHA-Actif Anti-Odourant Crème, takes a unique approach to dealing with body odour by attempting to eliminate it at the root in as natural a way as possible. By matching the pH of a healthy underarm, the AHA-Actif Anti-Odourant Crème seeks to inhibit the growth of odour-causing bacterial species which are said to thrive above a pH of 6.5 - 7, and repair and restore skin barrier function for much healthier, supple, and nourished underarms.

The anti-odourant also contains postbiotics and anti-microbials to hinder the proliferation of odour-causing bacteria whilst promoting the growth healthy strains.  
Why is the pH of your personal care important?

A healthy skin pH ensures proper skin barrier function.  The "normal" pH of the skin surface is moderately acidic in the range of pH 4.1 to 5.8, and 6.1 to 7.4 for physiological gaps such as the underarms.    

Studies have shown the potential of topical applications to influence skin surface pH, which over the long run may result in impaired skin barrier function and problems including rashes, itching, redness, inflammation, dermatitis, rosacea, psoriasis, and ichthyosis.  It may also lead to the growth and proliferation of odour-causing strains that tend to thrive at higher pH's, resulting in much stronger body odour. Please note that while an elevated skin pH has been observed in such skin conditions, that it hasn't yet been conclusively determined whether pH is the cause, or the result, of such diseases. 

Due to the above-mentioned research, there exists a high level of agreement within the scientific community that topical products should always be acidified to promote and support skin health and resilience.  
View all FAQs
Surprisingly good for me
Wife gave this to me to test out at the gym, felt pretty alright and no one around me complained so definitely working
Nothing else like this product
I was constantly looking for new deodorants because I could never find one that helped solve my odor issues.
I was given Kyoor as a gift and absolutely loved it.
It's the perfect balance of scent and effectiveness- it's also so absorbent unlike other creams or pastes on the market.
HIGHLY HIGHLY RECOMMEND.
Finally a clean deodorant that works
Being a doctor, and constantly on my feet in ppe, I was hesitant this would work to manage my long days in the hospital. So glad i gave this product a try. Lasted my entire shift and more. No odour whatsoever and the product absorbs extremely well into the skin for an easy application. Being concious of what i put on my body, the quality ingredients are an additional benefit. Have just gotten an additional tube for my husband as well!
Didn't Work For Me :(
Had high expectations. I've been on the hunt for quite some time trying to find the right product for me. Price wise, it is on the expensive side. It was only until squeezing half way of the tube that I would start to get some product out. Though you might apply a pea sized amount, its high ticket would be hard to maintain. Love the packaging in terms of looks and the tube. If I needed to keep it on me, its perfect to pop in your bag. The creme is lightweight and the application feels great on the skin. I purchased 'Floral' which had a great fragrance. The product would last the whole day! During the first couple of weeks, the product was working really great for me and my skin. Unfortunately in the end, it started causing quite severe irritation to my skin. Reading the FAQS page on Application in regards to the adjustment period, I did go through the stages of where there was wetness and odour. But during and after that period, my skin began to get worse and worse. I had large red bumps that were sore and sensitive, some of which appeared pimple-like and would burst, as well as cause scabbing - I had this happen all over both my underarms. So I of course had to stop as it was quite painful and my skin very damaged. Everyone is different so I'm bummed it just didn't work out for me. For anyone looking into this for the first time, I would definitely recommend on trying it as it may work out for you! It is different from what is out on the market, and I like the science behind it.
Love love love it!
I don't often leave reviews but I had to for this one.
I've tried a lot of natural deodorants out in the market over the past 10 years, & from some very well known brands but this one has been a total life saver! I was using my previous deodorant over the summer & for some reason (I suspect bicarb) ended up with skin rashes & burns. My underarms darkened & were quite sore & painful. I saw an ad pop up so decided to give Kyoor a go. Literally within a week my armpits started to heal & lighten back to their usual colour. I find that I only need to apply it every other day & still feel protected against any bad odours. The product has also lasted me a while & has been perfect for my sensitive skin!